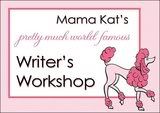 After seeing all the choices for this week's prompts, I was drawn to #3:  The most unbelievable blue eyes you've ever seen…
Without a doubt, the most gorgeous blue eyes I've ever seen belong to my two boys -- Brett and Dylan.  When I was a baby I had light blue eyes but they quickly seemed to change over to green (which is what I have today.) My boys have true BLUE eyes that just melt me whenever I look into them.  I'm not sure what it is about blue eyes that makes them so enchanting.  Maybe its because most of the people in the world seem to have brown eyes.  Or perhaps it just seems that blue eyes sparkle.
Since they were little, their baby blues have dazzled me in photos:

Truth is . . . those sparkling blue eyes have stayed with them!  Lucky guys!